Intramuros
Intramuros
---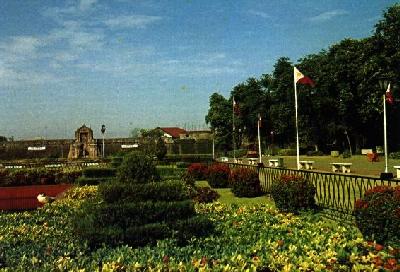 INTRAMUROS, the old capital of Manila, was built in 1571. It remains a monumental, if ruined, relic of the Spanish period in Philippine history. It is a city within a city, separated from the rest of Manila by its crumbling walls. This ancient capital had well-planned streets, plazas, the Governor's Palace and churches. However, many buildings were reduced to shambles in World War II.


Among the places to visit in Intramuros are the two churches - The Manila Cathedral and St. Augustine Church -- and Fort Santiago.
The Manila Cathedral is the fifth stone church of Manila. It was destroyed and rebuilt several times. From the air, it appears as a giant cross.
St. Augustine Church is the oldest stone church in the Philippines. It was built in 1599; however, it was also destroyed and rebuilt many times. It is an immense structure of thick walls of Corinthian and Ionic designs.
Fort Santiago used to be the seat of the colonial powers of both Spain and the U.S. It was also a dreaded prison under the Spanish regime and the scene of countless military police atrocities during the Japanes occupation. Here, too, Dr. Jose Rizal spent his last hours before his execution on Bagumbayan. (now Rizal Park).
---
Expo | Pasyalan | Previous | Next

Source: Philippine Tourism Authority