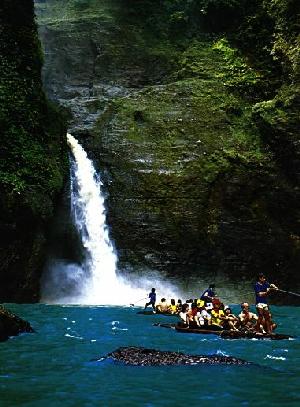 The province of Laguna boasts of seven rivers and seven lakes, as well as a plentitude of streams, waterfalls,springs, and rivulets. But of all these, nothing is more famous and exciting than Pagsanjan Falls.


Speak of Pagsanjan Falls and immediately shooting the rapids comes to mind. Visitors flock to this small town in the heart of Laguna for the thrilling canoe ride through the 14 rapids of the Bombongan River.

The five-kilometer journey winds through foliage, steep canyons, and deep gorges dotted by cascading waters. The ride culminates at the Pagsanjan Falls. Here, those who don't mind getting drenched can ride the raft which goes right through the thundering waterfalls

Upon their return, those who braved the ride can stroll around the orchidarium or take an afternoon tour to the many points of interest nearby: man-made Lake Caliraya, the Nagcarlan Underground Cemetery, the embroideries of Lumban town, the woodcarvers of Paete, the papier mache craftsmen of Pakil, the shoemakers of Liliw. A great many towns also boast of lovely historic churches.