ECONOMIC GROWTH SPREADS TO THE PROVINCES
In recent years, the Philippine economy has been transformed. However, economic activities are not confined in Metro Manila. The provinces are also beginning to prosper mainly due to the following reasons: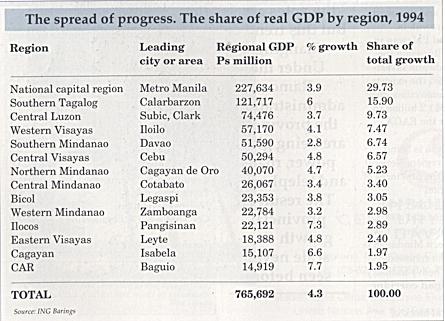 President Ramos appointed two special assistants for Visayas and Mindanao. These officers attend cabinet meetings and exercise authority over national officials.
The government has begun to spend money building roads, bridges, and other infrastructures.
It has motivated the private sector to invest in telecoms and power. These gave business the basic facilities with which to operate.
The Philippines has an excellent educational system which makes regional progress possible.


The following are some of the major regional growth centers in the south: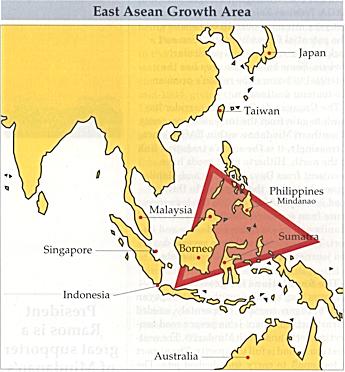 DAVAO is emerging as the center for agribusiness, tourism and recreation, light manufacturing, transshipment, and real estate projects. But its potential is due mainly to its location in the East Asian Growth Area or EAGA, which encompa sses Brunei, Kalimantan, and Sulawesi in Indonesia; Sabah and Sarawak in Malaysia; and Mindanao and Palawan in the Philippines.
GENERAL SANTOS CITY (gateway to South Cotabato and Sarangani) is becoming the agribusiness capital of the Philippines and also benefits from EAGA.
CAGAYAN DE ORO (in Northern Mindanao) is now showing its potential for heavy industries, offering cheap power, rich resources, and deep, all-weather ports. In the Cagayan de Oro - Iligan corridor, however, the most important industry is its thriving agri-industry.
CEBU is well-established as a high-tech manufacturing center, having one of the most successful export processing zones, which generates 10% of the Philippines' export earnings. It is also known for its active tourism industry.
"Source: ASIAMONEY magazine March 1996 Supplement - The Philippines Back in the Spotlight"
(C)Copyright 1996 Euromoney Publications (Jersey) Ltd."
"Materials used with permission."
For more information, e-mail to asiamony@i-manila.com.ph



Back to Kalakalan

[ The Philippines | The President | Philippine Economy | Finance Secretary | Liberalization | Economic Growth | Booming Philippine | GSIS | Economy ]